Having Root Canal Therapy? Here's What to Expect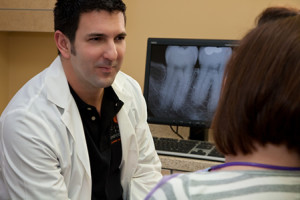 It's normal to feel nervous at the prospect of having root canal surgery; and many people feel anxious in the lead-up to the procedure. There are many effective ways to manage your feelings of concern, and one of the most beneficial is to take the mystery out of the process. Once you know what to expect, it's likely you'll feel more confident about it.
What to Expect from Root Canal Therapy
Firstly, it's important to keep in mind that root canal therapy is a standard dental procedure. In fact, it's one of the most common dental processes, and millions of people across the US have them each year. Your dentist or endodontic specialist will be highly experienced and you'll be in safe hands.
Here's what will happen when you arrive on the day of your procedure.
If you're worried about the pain, you'll be pleased to know that it's unlikely you'll feel any during the root canal surgery itself, and most people find the process completely painless. This is because your affected tooth will be thoroughly numbed using local anesthesia.
Rubber dam. Once your specialist is totally satisfied that your tooth is numb, he or she will apply a rubber dam to the tooth, which helps keep saliva away from the area.
Cleaning the tooth. Once the tooth is ready, the dentist will start cleaning the inside of the tooth, to prepare it for the filling. They may also need to x-ray the tooth at this point.
Once your endodontic specialist is happy that your tooth is ready, they will begin filling it with specially prepared filling material. After this, a temporary filling will be fitted.
After Root Canal
After the procedure is complete, the specialist will provide you with some instructions on how to look after your tooth (and yourself) once you're back at home. After roughly a fortnight, you'll need to go to your normal dentist to have your crown fitted.
If you've still got concerns about your treatment, simply get in touch with your endodontic specialist today.