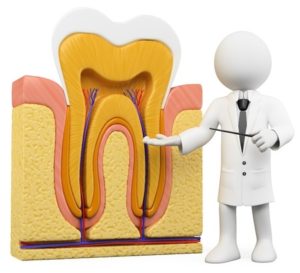 If you had the opportunity to plan your perfect day, would a root canal be one of the appointments you make? Probably not. Nonetheless, root canals play a very important part in your overall oral health.
Even if you don't look forward to the idea of a root canal, it's a process that is designed to preserve your smile and save your teeth. Here's what you should know about the root canal procedure to better understand its importance.
Why Do People Get Root Canals?
Inside the tooth, under the white enamel and hard dentin is a hollow space called the pulp chamber. The pulp chamber is filled with the living tissue called pulp that keeps each tooth alive. This pulp contains blood vessels, nerves, and connective tissue, so it's nothing short of essential.
Unfortunately, traumatic damage and/or deep tooth decay will cause the pulp to become inflamed or infected. Since this inflammation has nowhere to go, it places immense pressure on the tooth that leads to significant pain and long term damage. If it's not treated, the pulp will eventually die and spread infection through the mouth and body.
A root canal is a procedure that aims to save a tooth in this condition before the pulp dies and causes more damage. The infected tissue is removed and the hollow pulp chamber is cleaned and filled with a permanent material known as gutta-percha that is meant to keep the canal free of infection in the future. With the right care, a root canal will save the tooth from dying. Read more…