Safety Factors to Consider after Your Root Canal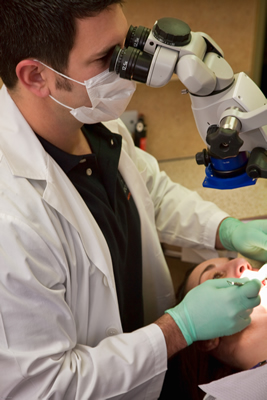 Nobody hopes to have a root canal, but we are lucky enough to live in an age where root canals are relatively quick and surprisingly painless. According to the American Association of Endodontists, "Advancements in medicine, techniques and technologies have made endodontic treatment a more predictable, successful treatment than ever before. Today, digital imaging, rubber dams, rotary instruments, powerful disinfectants and medicated filling materials help ensure successful root canal treatment."
While the root canal treatment itself is in the hands of your endodontist, your recovery process is largely determined by your willingness to be cautious and attentive to your saved tooth.
Post-Treatment Care
In the days following your root canal treatment, your mouth will be undergoing a natural healing process that may cause you to feel some tenderness around the treated tooth and in your jaw. These symptoms are common and temporary. Be sure to follow your endodontist instructions regarding pain relief. As the days go by, you'll notice that your tooth with the root canal may feel a bit different from your other teeth. It's all normal unless you are suffering from severe pain and pressure, in which case you need to contact your dentist.
It is critical that you take certain precautions to protect your tooth from damage after surgery. First, don't bite or chew on your treated tooth until you receive your dentist's clearance. Brush and floss as you normally would to keep the tooth healthy, and watch carefully for any signs of swelling or distressing symptoms. Earaches, general unwellness, and noticeable facial, neck, and gum swelling could indicate an abscess, which requires medical attention.
Future Oral Hygiene
Moving forward, remember that your tooth is not invincible simply because it has received a root canal. It still needs to be properly cleaned and protected. Brushing, flossing, and regular checkups will help to ensure that no future damage impacts your mouth.