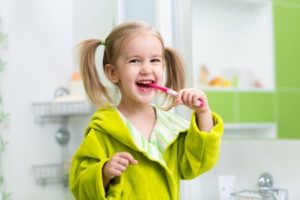 In the debate of nature vs. nurture, strong dental habits are deniably a result of nurturing. Your children will not automatically know to adopt oral care strategies into their daily routine, so it is up to you to teach them to take care of their teeth and gums. But where should you start? These tips will help you give your children the gift of a healthy mouth.
Start When Your Children Are Young
It is said that children learn languages easiest at a young age, and the same can be said of many skills, including dental hygiene. Clean your baby's mouth from the time she is a baby. Before teeth pop up, use a clean, moist gauze pad or washcloth to wipe away milk sugars and stimulate gum tissue.
Decay becomes a possibility the instant that the first tooth grows, and you can expect your baby's four front teeth to push through by the time she celebrates her first birthday. Begin a twice daily brushing routine once your child has teeth. Use a pea-sized amount of toothpaste and a child's toothbrush.   Read more…